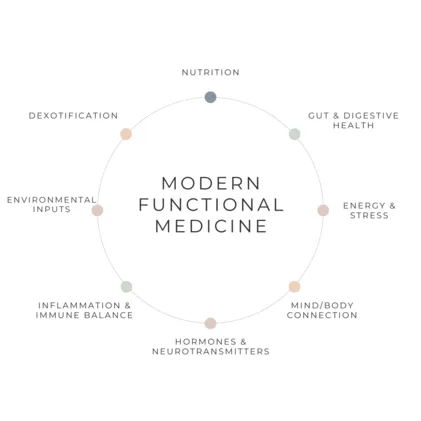 Functional medicine determines how and why illness occurs and restores health by addressing the root causes of disease for each individual.
Functional Medicine offers a powerful new operating system and clinical model for assessment, treatment, and prevention of chronic disease to replace the outdated and ineffective acute-care models that just wait for you to get sick.
It is Individualized, patient-centered, science-based.
Instead of suppressing symptoms, Functional Medicine asks WHY have the symptoms occurred in the first place?
Functional Medicine practitioners spend time with their patients, listening to their histories and looking at the interactions among genetic, environmental, and lifestyle factors that can influence long-term health and complex chronic disease. In this way, Functional Medicine supports the unique expression of health and vitality for each individual.